This year's award of the FNG Siegel was the eighth annual event. On Thursday, 24 November 2022 asset management firms and representatives of the German sustainability community gathered at the Römerberg in Frankfurt. The FNG (Forum Nachhaltige Geldanlagen e.V.) Label process is managed by QNG (Qualitätssicherungsgesellschaft Nachhaltiger Geldanlagen), a subsidiary providing certification and consulting services .
"Sustainably managed investment funds or similar investment vehicles of all asset classes can apply for the FNG-Label, provided they comply with the UCITS or an equivalent standard and are authorized for distribution in at least one of the following countries: Germany, Austria, Switzerland or Liechtenstein", as described by QNG/FNG.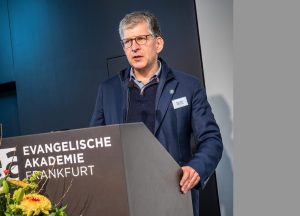 Roland Kölsch, CEO QNG (pictured) hosted the event and presented the methodology of the certification process and the team. Simone Wagner and the evaluation team provided an update on this year's and next year's process. Prof. Timo Busch, University of Hamburg presented an overview on the future assessment process and Anna Katharina Dahms, QNG, presented the Labels for 2023 to asset management firms.
The Label requires the fulfillment of certain minimum requirements. To be awarded the Label, the product has to meet all minimum requirements. Candidates that apply for both the minimum requirements and the grading model may achieve up to three stars in the grading model signaling varying levels of quality. The number of stars awarded depends on the number of percentage points achieved in the grading model.
For 2023 a total number of 310 applications were submitted and 291 FNG Labels were awarded.
2023 FNG Label – List of Mutual Funds
More on the FNG Label and process can be found here:
| All opinions expressed are those of the author and/or quoted sources. investESG.eu is an independent and neutral platform dedicated to generating debate around ESG investing topics.