Standard Life Investments Global Equity Impact Fund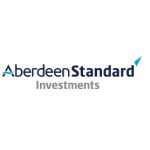 | Investment objective
〉The Fund aims to generate growth over the long term by investing in equities which aim to create positive measurable environmental and/ or social impacts.
〉The Fund aims to outperform MSCI AC World Index (USD) benchmark before charges.
Shareclass: A Acc Eur
(ISIN: LU1697552567)
Co-Fundmanager: Sarah Norris
Co-Fundmanager: Dominic Byrne
〉More from Aberdeen Standard investments
| Important information
For professional investors (in Switzerland for Qualified Investors) only – not for use by retail investors.
| Risk factors you should consider before investing:
Past performance is not a guide to future returns and future returns are not guaranteed. The price of assets and the income from them may go down as well as up and cannot be guaranteed; an investor may receive back less than their original investment. The fund may use derivatives to reduce risk or cost, or to generate additional capital or income at low risk. Usage of derivatives is monitored to ensure that the fund is not exposed to excessive or unintended risks. The value of overseas assets held in the fund may rise and fall as a result of exchange rate fluctuations.
More details of the risks applicable to this fund can be found in the Key Investor Information Document (KIID) and Prospectus, both of which are available on request or at our website aberdeenstandard.com.
| Other important information
For professional investors (in Switzerland for Qualified Investors) only – Not for use by retail investors.
Standard Life Investments Global SICAV is an umbrella type investment company with variable capital registered in Luxembourg (no.B78797) at 2-4, rue Eugéne Ruppert, L-2453 Luxembourg, Grand Duchy of Luxembourg.
Additional Information for Switzerland : The prospectus, the key investor information documents, the articles of incorporation, the annual and semiannual report in German, and further information can be obtained free of charge from the representative in Switzerland: Carnegie Fund Services S.A., 11, rue du Général-Dufour, CH-1204 Geneva, Switzerland, web: www.carnegie-fund-services.ch. The Swiss paying agent is: Banque Cantonale de Genève, 17, quai de l'Ile, CH-1204 Geneva. The last share prices can be found on www.fundinfo.com.
The information contained in this marketing document is intended to be of general interest only and should not be considered as an offer, or solicitation, to deal in the shares of any securities or financial instruments. It is not intended for distribution or use by any person or entity who is a citizen or resident of or located in any jurisdiction where such distribution, publication or use would be prohibited.
In Spain STANDARD LIFE INVESTMENTS GLOBAL SICAV is registered with Comision Nacional del Mercado de Valores under number 814.
Before investing, investors should consider carefully the investment objective, risks, charges, and expenses of a fund. This and other important information is contained in the prospectus, which can be obtained from a financial advisor and are also available on aberdeenstandard.com. Prospective investors should read the prospectus carefully before investing.
Subscriptions for shares in the fund may only be made on the basis of the latest Prospectus and relevant Key Investor Information Document (KIID) which can be obtained free of charge upon request or from www.aberdeenstandard.com.
Issued by Aberdeen Standard Investments Luxembourg S.A. 35a, Avenue J.F. Kennedy, L-1855 Luxembourg. No. S00000822. Authorised in Luxembourg and regulated by CSSF.
Aberdeen Standard Investments (Switzerland) AG. Registered in Switzerland No. CHE-114.943.983. Registered Office: Schweizergasse 14, 8001 Zurich.