| Aberdeen Standard Investments is ded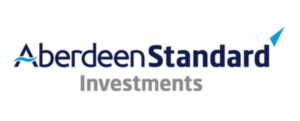 icated to helping investors around the world reach their desired investment goals and broaden their financial horizons.
Today, we manage a total of £486.5bn (€574.2bn/$644.5bn) of assets on behalf of governments, pension funds, insurers, companies, charities, foundations and individuals across 80 countries (as at 31 December 2019).
As a responsible global investor, we leverage our scale and market position to raise standards in both the companies and industries in which we invest, and help drive best practice across the asset management industry (as at the 31st of March 2020, Source: Aberdeen Standard Investments)
Everything's Future. Invest today. Change tomorrow.
| Our goal
At Aberdeen Standard Investments (ASI), our vision is to invest for a better future. We want to make a difference for our clients, society and the wider world – while also aim to deliver financial returns. Environmental, social and governance (ESG) considerations have been an integral part of our decision-making process for almost 30 years. By putting ESG factors at the heart of our investment process, we believe we can generate better outcomes for our clients. The impact of Covid-19 makes this goal even more important. Now, more than ever, we need to work together for a more sustainable future.
| Our approach
Responsible investing is about delivering value for clients. Our approach falls into two areas. At the investment stage, we use ESG factors to help decide where best to invest. We integrate ESG into our research, analysis and decision-making processes. We also manage specialised funds that incorporate stronger sustainability or ethical principles. Active ownership is how we look after these investments. As shareholders, we vote in a considered manner and work with companies to drive positive change. We also engage with policymakers on ESG and stewardship matters.
| Our commitment
It starts with us. As a company, we focus on key societal and environmental issues that matter to our stakeholders, and on which we can have a positive impact. Operationally, that means reducing our emissions and providing fair and inclusive work. For more information on our responsible investing approach, please visit our Responsible Investing Hub.
| Asset owners are welcome to utilize more detailed information available on investRFP.com at no cost. The topics covered by this asset management company (27 July 2020):
| Important Information
Investment involves risk. The value of investments, and the income from them, can go down as well as up and an investor may get back less than the amount invested. Past performance is not a guide to future results.
| Disclaimer
The value of investments, and the income from them, can go down as well as up and investors may get back less than the amount invested. Past performance is not a guide to future results.
The above marketing document is strictly for information purposes only and should not be considered as an offer, investment recommendation, or solicitation, to deal in any of the investments or funds mentioned herein and does not constitute investment research. Aberdeen Standard Investments does not warrant the accuracy, adequacy or completeness of the information and materials contained in this document and expressly disclaims liability for errors or omissions in such information and materials. Any research or analysis used in the preparation of this document has been procured by Aberdeen Standard Investments for its own use and may have been acted on for its own purpose. The results thus obtained are made available only coincidentally and the information is not guaranteed as to its accuracy. Some of the information in this document may contain projections or other forward looking statements regarding future events or future financial performance of countries, markets or companies. These statements are only predictions and actual events or results may differ materially. The reader must make their own assessment of the relevance, accuracy and adequacy of
The information contained in this document and make such independent investigations, as they may consider necessary or appropriate for the purpose of such assessment. This material serves to provide general information and is not meant to be investment, legal or tax advice for any particular investor. No warranty whatsoever is given and no liability whatsoever is accepted for any loss arising whether directly or indirectly as a result of the reader, any person or group of persons acting on any information, opinion or estimate contained in this document. Aberdeen reserves the right to make changes and corrections to any information in this document at any time, without notice. This material is not to be reproduced in whole or in part without the prior written consent of Aberdeen Standard Investments.
| Issued in:
Austria, Belgium, Denmark, Finland, France, Germany, Italy, Ireland, Luxembourg, Netherlands, Norway, Portugal, Spain, Sweden: Aberdeen Asset Managers Limited, registered in Scotland (SC108419) at 10 Queen's Terrace, Aberdeen, AB10 1XL. Standard Life Investments Limited registered in Scotland (SC123321) at 1 George Street, Edinburgh EH2 2LL. Both companies are authorised and regulated by the Financial Conduct Authority in the UK.
Switzerland: Aberdeen Standard Investments (Switzerland) AG ("ASIS"). Registered in Switzerland under company no. CHE-114.943.983.
Registered Office: Schweizergasse 14, 8001 Zurich.