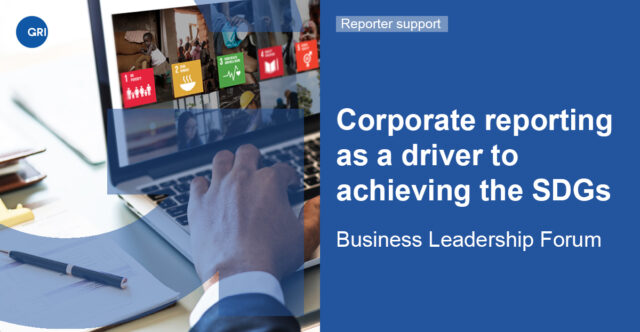 INSIGHT by the Global Reporting Initiative
A new forum will leverage the power of corporate reporting to drive action towards accomplishing the Sustainable Development Goals (SDGs), by facilitating dialogue and collaboration between companies and their stakeholders.
| The GRI Business Leadership Forum is built around a series of quarterly online sessions with representatives from key stakeholder groups – including investors, governments, regulators, supply chains, civil society and academia. GRI reporting organizations around the world can now sign up for this two-year program.
The forum, which will start in March 2021, includes:
〉A blend of expert guidance, peer learning and relationship building with multiple stakeholder groups
〉Practical support on identifying and understanding different stakeholder needs, in order to showcase the company's commitment to the SDGs
〉Opportunities to demonstrate sustainability leadership, by contributing to a series of session summaries and masterclasses, as well as co-creating a final outcome report
| Mirjam Groten, GRI's Chief Business Development Officer, said:"To mobilize the efforts and resources required to deliver the SDGs, we need to do all we can to increase collaboration between businesses and other stakeholders. And as we consider how to achieve a sustainable and inclusive recovery to the pandemic, the urgency is all the more evident.
Our Business Leadership Forum will provide companies with practical insights that can raise the quality and strategic relevance of their SDG reporting. It also offers a unique opportunity for multi-stakeholder collaboration, unlocking better outcomes both from the business and sustainable development perspectives."

| about
Global Reporting Initiative (GRI) is the independent, international organization that helps businesses and other organizations take responsibility for their impacts, by providing them with the global common language to report those impacts.
The GRI Standards are the world's most widely used and comprehensive sustainability reporting standards, which are developed through a multi-stakeholder process and made available as a free public good.