NEWSLETTER by Alessia Falsarone
---
The circular economy has been criticized for not doing enough to directly address biological diversity, or what we most commonly refer to as biodiversity.
In order to prevent the loss of biodiversity, we must protect 30% of the world's land and oceans in the next decade. Circular economy strategies, which include among others designing out waste and pollution, keeping materials in use, and regenerating natural systems, have the potential to play a vital role in conserving and safeguarding all natural ecosystems.
| The Science of Impact
Over half of the world's GDP relies on nature. On Earth Day 2023, David Cooper, the acting executive secretary of the Convention on Biological Diversity, referred to biodiversity as "the heartbeat of Mother Earth", reminding us of the urgent need to strengthen private sector efforts to mitigate businesses' negative impacts on biodiversity and consumers' waste generation.
So far, environmental impact assessments of the circular economy have mainly focused on greenhouse gas emissions, on waste, and on the use of virgin raw materials. But are there unintended consequences of circularity on biodiversity?
During a workshop organized by Future Earth, Tim Forslund shared the outcomes of a study by the Finnish Innovation Fund Sitra on how circularity initiatives in the country have the potential to halt biodiversity loss and improve regional biodiversity. Specifically:
When designing circular solutions affecting production processes, regenerative practices that introduce replacement species and microorganisms to offset biodiversity loss and diversify bio-feedstocks should be supported upfront.
2. Consumption is a major contributor to biodiversity loss. To tackle this issue effectively, we need to measure the right things – such as the extraction rate of natural resources, with the goal of reducing them, while also setting policy targets aiming at reducing our resource consumption.
3. Lastly, to avoid creating unintended pressures on natural ecosystems in other regions of the world or at another time in the cycle, we must model the effect of circularity decisions along the full value chain- not only at home.
When it comes to measuring the right things, one such measure to keep in mind in the design of circular systems is biodiversity rates which describe the variation at the genetic, species and ecosystem level.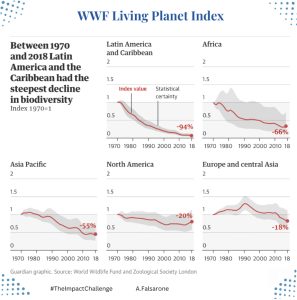 >>click to zoom in | Credit: World Wildlife Fund and Zoological Society London
Biodiversity rates have been on a path of rapid decline for years, according to the Living Planet Index. At least 60% of species listed under the Habitats Directive are currently endangered or critically endangered. Circularity can help by contributing to reduce the continued pressure on natural ecosystems.
| Circularity Roadmaps Explained
Enni Ruokamo and her colleagues at the Finnish Environment Institute (Syke) – Suomen ympäristökeskus (Syke) have released a detailed study on the impact of circular economy actions in sectors of the Finnish economy. They stress the fact that biodiversity effects cumulate through value chains, thus both direct and indirect impacts of circular economy roadmaps must be recognized.
A pressure figure is a helpful tool to address that as it can reflect the relative role of a circularity action in reducing or increasing the pressure on biodiversity in each sector of the economy. Three indicators (raw material requirement, land use, and biodiversity loss) describe material and land use in relation to their effects on natural systems as a result of circularity actions. It's important to note that these indicators capture all direct and indirect effects of economic activities, including those resulting from imports that originated from outside of the country (such as the manufacture of imported products).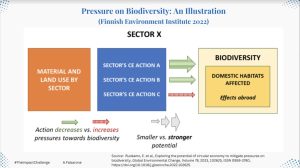 >>click to zoom in | Credit: https://doi.org/10.1016/j.gloenvcha.2022.102625
The team at Syke employs the pressure figure to lay out the potential effects on biodiversity of circularity actions in the construction and real estate sectors.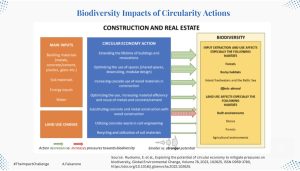 >>click to zoom in | Credit: https://doi.org/10.1016/j.gloenvcha.2022.102625
The direct effects of land use are particularly pronounced in urban areas through the built environment, as parks and courtyards host a variety of species while building materials can also cause additional natural habitat loss.
For example, the lifetime extension of new buildings and that of existing building stocks are circularity actions that would reduce demand for new construction in the future. Nevertheless, an eye on biodiversity would also imply that actions to renovate aging infrastructure would be necessary to preserve biodiversity loss through changing land use in urban areas. In addition, substituting concrete and metal construction with wood, would decrease biodiversity pressures resulting from the manufacturing of steel and concrete products. However, introducing more wood products would in turn pressure forestry through heavier land use. Releasing that pressure requires significant balance in prioritizing one action vs. another, and measuring its impact along the way.
| Investing in the Circular Economy
It is estimated that preservation and restoration of natural ecosystems require an investment in the range of US$300-400 billion vs. US$50+ billion currently invested. The upside? A benefit-cost ratio of 100 to 1!
Think, for example, of conserving marine stocks. It could increase annual profits of the seafood industry by more than €49 billion. The protection of coastal wetlands? It could save the insurance industry around €50 billion annually through reducing flood damage losses. And so on.

Biodiversity loss, after all, was one of the top three risks identified in the World Economic Forum's 2022 Global Risks Report, along with climate change and extreme weather, and well on its way to becoming a systemic threat. Regulators worldwide are now examining more closely the impact of environmental degradation — including biodiversity loss — on financial risks. Consequently, it's critical for financial institutions to understand both the ramifications of biodiversity loss for their portfolios and the impact of their financial activities on biodiversity.

The 4th Annual Survey of Climate Risk Management released by Jo Paisley and Maxine Nelson from the Global Association of Risk Professionals (GARP) highlights biodiversity as the environmental risk most often considered beyond climate (63% of cases) by survey respondents for 2022.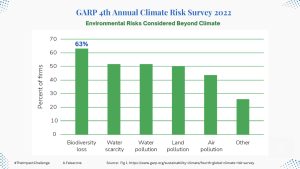 >>click to zoom in | Credit: Global Association of Risk Professionals (GARP)
While there is growing recognition of climate change as a direct driver of biodiversity risk (think of the climate-connected natural disasters, including wildfires and more frequent and intense flooding, which also yield a drop in biodiversity), there isn't a universal framework for measuring biodiversity-related losses. Among the initiatives that have engaged in the development of frameworks and the communication of metrics, the Science-Based Targets for Nature provides a helpful guide for linking environmental degradation to biodiversity.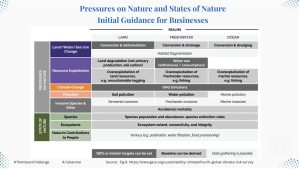 >>click to zoom in | Credit: Global Association of Risk Professionals (GARP)
For example, pressure on land (1st column under "Realms" on the left) arises from land conversion and deforestation, the overexploitation of land, soil pollution, and the presence of invasive species. Each of these factors can be measured, including gathering information regarding the species on land and their extinction rates, the physical area covered by the reference ecosystem, and the contribution of terrestrial species to people's lives in that area.
As the IFRS Foundation continues its work on the disclosure of sustainability-related financial information including the development of reference guidance for biodiversity, it will become increasingly important for financial institutions to align their investments, financing and underwriting businesses to release pressures on nature and minimize biodiversity-related losses.
| You don't want to miss this week
From Malmö to Amsterdam, and Luxembourg, this week offers new opportunities to connect with fellow circularity practitioners both in person and in hybrid mode.
Discover, grow and leave your mark!
〉April 24th: Circular Procurement of Electric Vehicle Chargers – EVCs (Malmö, Sweden and virtual). With the surge in demand for electric vehicles, it's important not to forget their impact on the environment. That's why the city of Malmö is leading the way in creating a joint statement to establish common standards for circular EVC procurement and boost the public sector presence in the market. The event offers an opportunity for public sector buyers and EVC suppliers to build a constructive dialogue, exchange views and prepare recommendations on the potential for circularity in EVCs.
〉April 25th-26th: Sustainable Apparel and Textiles Conference (Amsterdam). "Towards industry alignment: How brands can transform supply chains, scale circularity, and drive positive social impacts on the route to net zero". This Innovation Forum offers opportunities to align and adapt brand practices to meet growing stakeholder expectations. Delegates will learn about developing net-zero strategies, building trust with supply chain transparency, engaging consumers, creating circularity in net zero plans. In particular, Christophe Bocquet from @Chloé and Barbara Dunin from Beontag will engage the elephant in the room: how brands can overcome the overproduction problem, while Debbie Shakespeare from Avery Dennison and Matt Reynolds from Higg will also add the lens of traceability data as a driver of circularity transformation.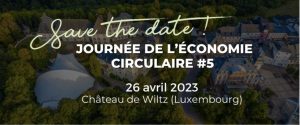 〉April 26th: 5th Circular Economy Day in Luxembourg (Château de Wiltz, Luxembourg). Join a day of learning on "Urban Metabolism", co-organized by InfoGreen .lu and the In4Green partner network. To facilitate a transition to the circular economy, a holistic vision of the territory is essential. The concept of urban metabolism helps visualize the entire resource flow of a city as a dynamic system that takes into account all incoming, stored, and outgoing resources. Prof. Henning Wilts from Wuppertal Institute for Climate, Environment and Energy, and Patty Koppes from the Commune de Wiltz, will introduce the concept and share its potential.
Off to another impactful week!
| about 
Alessia Falsarone is executive in residence, practitioner faculty at the University of Chicago, where she leads the Circular Economy and Sustainable Business program. The article is based on the author's newsletter A Week of Circularity from the innovation knowledge hub.
| All opinions expressed are those of the author and/or quoted sources. investESG.eu is an independent and neutral platform dedicated to generating debate around ESG investing topics.