NEWSLETTER by Alessia Falsarone.The author acknowledges the team at The University of Chicago Circular Economy and Sustainable Business Management Program and all participants of the innovation knowledge hub for their insights and collaboration.
---
Over 450 participants of the International Conference on Nuclear Decommissioning gathered in Vienna last week. They came together during a time of global interest in the new generation of nuclear technologies, which aim to mitigate climate risks. Countries also plan for the retirement of aging nuclear facilities and address the challenges of decommissioning. Experts recognized the importance of applying circular economy principles and sustainability to decommissioning early on and integrating them into the structural design of future nuclear facilities.
As Laurence Piketty, Deputy CEO of the French Atomic Energy Commission CEA, puts it: "Decommissioning by design is becoming a fact".
We couldn't agree more.
| The Science of Impact
The International Atomic Energy Agency (IAEA) has been supporting the adoption of circular economy principles in decommissioning projects for years.
Decommissioning based on sustainability and circular economy principles can lead to benefits such as less waste, lower costs, and reduced risk of delays. While newer nuclear facilities are designed with decommissioning and waste management plans in place, older facilities constructed in the 1960s and 1970s did not take circularity principles into account. However, circularity principles can still be effectively used to decommission these facilities. For example:
〉up to 90% of non-radioactive materials such as metals, concrete, and work clothing can be reused or recycled, while
〉only around 3% of materials (mainly spent fuel) are highly radioactive. Even then, more than 95% of this fuel can be reprocessed to make new fuel and by-products.
At the end of 2020, there were a total of 686 nuclear power reactors worldwide, including 442 operational, 172 permanently shut down, and 20 fully decommissioned ones (e.g., permanently shut down or in a safe enclosure phase). Among these reactors, 52 were under construction.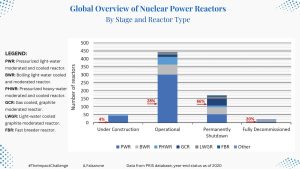 >> click to zoom in | Credit to IAEA Nuclear Energy Series NW-T-2.16 (March 2023) Fig. 1
Although many reactors have operated for over 30 years, it's not easy to predict when they will be retired because the decision to shut down a reactor permanently is influenced by multiple factors, such as political and economic considerations, maintenance/refurbishment costs, and electricity market conditions.
| Circularity Roadmaps Explained
While recycling has become a common practice in decommissioning work, the principles of circular economy provide a new approach: decommissioning by design. This framework incorporates decommissioning requirements into the design process, along with circularity features.

Although most of the world's reactors were built before the concept of sustainable development was conceived, recycling techniques have extended the life of materials and allowed for repurposing of nuclear sites for other uses.
Nuclear power plants and research reactors can be decommissioned and their materials can be reused or recycled, creating new opportunities for waste processing, storage facilities, research centers, and industrial parks. For example, the materials from the decommissioned Australian research reactor MOATA, located in Sydney, were over 85% reused or recycled.
Grenoble, France serves as a successful example where formerly radioactive nuclear facilities are now a research and development center for green energy technology and renewable energy sources. This facility now focuses on electric vehicles, batteries, and hydrogen production.
A number of countries already require an immediate dismantling strategy for decommissioning in their national policies.
There are a handful of factors that have contributed to make immediate dismantling the preferred choice. First and foremost, the availability of waste facilities, access to funding, followed by the proximity to spent fuel facilities. Rather, the factors with the least overall impact on delivery of decommissioning are the future use and future planning for the site, followed by the availability of personnel and key skills.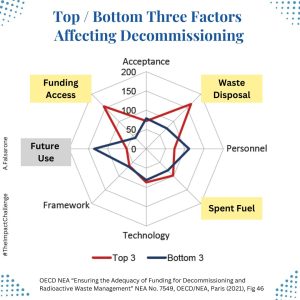 >> click to zoom in | Credit to IAEA Nuclear Energy Series NW-T-2.16 (March 2023)
The need to integrate the future use of the site into the decommissioning planning and implementation process is when circularity principles can play a leading role. Additionally, considering green engineering and green public procurement rules when analyzing the flow and management of materials resulting from decommissioning activities leads to a broader assessment of the actual practice of recycling and reuse and to the identification of obstacles to the recovery of scrap materials arising from such activities.
| Investing in the Circular Economy
Funding arrangements that support nuclear decommissioning and the handling of radioactive waste are essential to building public confidence in nuclear energy. As circularity practices become more prevalent through decommissioning by design, investors, regulators, and operators of nuclear power assets will need to create more flexible financing plans that reflect new technological options as they emerge over the long term.
The OECD Nuclear Energy Agency (NEA) recently released a report that examines financing options for decommissioning and radioactive waste management in NEA member countries. It highlights the limitations of traditional methods of forecasting costs based on a linear method of discounting estimated future costs. Instead, the NEA recommends a circular approach that includes periodic reviews of conditions and stakeholder consultations. This approach is particularly important due to the challenge of adapting to changes in economic and financial framework conditions over long time periods. For example, returns on assets, such as government bond yields, can fluctuate significantly. As a result, funding requirements or investment strategies may also need to be adjusted.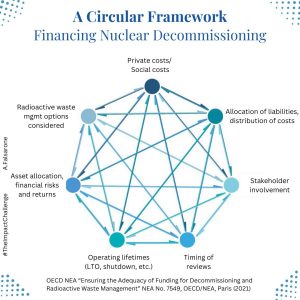 >>click to zoom in | Credit to NEA No. 7549, OECD/NEA, Paris (2021)
The question of how to best achieve adequacy and flexibility will become more pressing as many reactors around the world approach end of operations.
Commenting on the report recommendations, NEA Senior Advisor Jan Horst Keppler, suggests: "Transitioning from a linear to a circular approach recognizes explicitly that ensuring the adequacy of funding for decommissioning and radioactive waste management is not akin to traditional project finance, which we suppose in the linear approach or in the polluter pays principle . It's a dynamic societal process requiring multiple adjustments along the way."
| You don't want to miss this week
From Trois-Rivières, Quebec, to Brussels, and Bologna (Italy), this week offers new opportunities to connect with fellow circularity practitioners both in person and in hybrid mode.
Discover, grow and leave your mark!
〉May 23rd-25th: Bioket 2023 (Trois-Rivières, Quebec). BIOKET is the global conference dedicated to processes and technologies applied to biomass. The session chaired by Meaghan Seagrave, the executive director of Bioindustrial Innovation Canada (BIC) on how GHG valorization is a key pathway to net zero, will address a circular economy approach to climate change including field implementation and commercialization and use of industrial gas to produce added value materials, solvents, chemicals or food.
〉May 24th: Project Development for the Circular Economy. (Brussels, Virtual) The HOOP project will share insights from the delivery of Project Development Assistance (PDA) projects to cities and regions aiming to increase the circularity of biowaste and wastewater valorization technologies. HOOP partners will share their experiences, talk about barriers and lessons learned: Feasibility and environmental assessments – Cristina González Buch; Circular bio-based business models – EVGENIA VOGIATZIDAKI, DRAXIS Environmental S.A.; Innovative financial engineering and public procurement – Margriet Goossensen, Bax & Company; Stakeholder engagement – Anna-Carina Diedrich; overall PDA management – Miguel Angel Suarez Valdes.
〉May 24th-25th: International Union of Property Owners (UIPI) Renovation Tour: Emilia Romagna. (Bologna, Italy) Organized* by the UIPI, the Architects'​ Council of Europe (ACE-CAE), and the Università di Bologna, the tour will address the new European climate objectives, in light of national, and regional policies, followed by practical sessions on financial, technical, and assistance tools, to prepare homeowners for the restructuring they will have to undergo while involving the community in the transformation to a more inclusive, and sustainable region. *Note: The tour will be conducted in Italian.
Off to another impactful week!
| about 
Alessia Falsarone is executive in residence, practitioner faculty at the University of Chicago, where she leads the Circular Economy and Sustainable Business program. The article is based on the author's newsletter A Week of Circularity from the innovation knowledge hub.
| All opinions expressed are those of the author and/or quoted sources. investESG.eu is an independent and neutral platform dedicated to generating debate around ESG investing topics.