NEWSLETTER by Alessia Falsarone. The author acknowledges the team at The University of Chicago Circular Economy and Sustainable Business Management Program and all participants of the innovation knowledge hub for their insights and collaboration.
A year has passed since the launch of the UN Environment Programme's Global Treaty on Plastics, the first global attempt at addressing a worldwide issue that requires collective action. Plastic waste a global issue, with both an environmental and a social DNA. It has been stated more than once: 25 companies holding a total of 50% market share are responsible for half of the world's plastic production. Yet, the ecosystem of plastics is complex — production, processing, consumption, waste collection, sorting and recycling— with a variety of stakeholders being primary decision makers at each step.
This year, on World Environment Day 2023, I invite you to leave behind the focus on individual stakeholders and remediation actions (downstream activities) and start considering the full lifecycle of plastics as a system which comprises inefficiencies, bottlenecks as well as opportunities to move investments and policies upstream where the recycling potential of materials can turn plastic waste into value.
| The Science of Impact
The team in the Innovation and Digital Finance Advisory division at the European Investment Bank (EIB) have recently shifted the discussion on plastic pollution from systemic bottlenecks to the inefficiencies in the plastics value chain that, once clearly laid out, could offer a stronger prioritization rationale when it comes to investment opportunities as well as policy measures.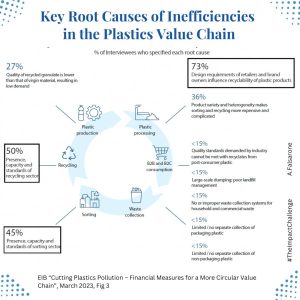 >>click to zoom in | Courtesy of Vanessa Paul and the EIB Innovation and Digital Finance Advisory team.
Root Cause #1: Design requirements of retailers and brand owners influence the recyclability of plastic products.  In essence, decisions surrounding packaging materials are the leading contributor to the plastic waste problem.
Packaging materials are primarily designed to enhance product positioning and marketing, while also meeting logistical and safety needs. However, the product development process rarely considers material recovery in product design. This emphasis (on positioning and marketing first) causes packaging materials to be highly heterogeneous in terms of color, material, format, etc, thus lacking viable reuse or recycling pathways.
Bottomline: If we followed basic sustainable design principles, much of the plastic packaging material used today could already be waived by retail and brand owners.
| Circularity Roadmaps Explained
Beyond the environmental risks, the growing financial risks of unmanaged plastics pollution linked to human health and society, and financial risks for corporate investments, are becoming stronger drivers of action – both in terms of policy making as well as defining priority areas for investing in plastic waste solutions. The majority of the current efforts by local government authorities and international bodies have prioritized downstream solutions (for example, clean up and remediation after a major leakage in the environment) as opposed to developing prevention measures, where most technology-driven alternatives remain in proof-of-concept stage.
So far, most of the circularity roadmaps involving plastics have served the purpose of policy making as a key complexity of the plastics value chain is in bringing to the market lifecycle solutions. In their recent release, the teams at Chatham House and the Global Water Partnership, stress the importance of plastics data transparency and traceability as key steps to implementing such solutions with an industrial applications lens in mind.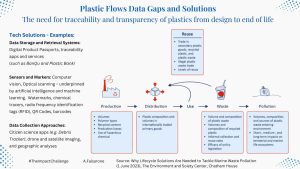 >>click to zoom in | Credit to https://circulareconomy.earth/publications/why-lifecycle-solutions-are-needed-to-tackle-marine-plastic-pollution
Not surprisingly, most plastic products are not currently labeled in ways that clearly state the additives included in them, making data gaps even more relevant at a time of focus on raising public awareness on plastic waste pollution. The lack of homogeneity in plastics, reinforced by brand owners' preference for a variety of shapes, sizes and colors, adds to the challenges of recycling and sorting, makes plastic packaging is the biggest contributor to the plastic waste problem (both by volume and environmental impact).
The introduction of Digital Product Passports starting from the EU is likely to deliver another tool to enable businesses and government to simplify the complexities of the plastics value chain and introduce new investment opportunities for the private sector.
| Investing in the Circular Economy
Globally, plastic waste represents a USD100 billion problem annually.
Europe is doing comparatively well in curbing plastic pollution and advancing a baseline for global plastic treaty negotiations along with Japan and Chile. Its Waste Framework Directive and Packaging Directive have been enforcing recycling targets and promoting circular design features for plastic packaging products for over a decade. These efforts have significantly reduced plastic leakage into the environment. However, the EIB study points to an investment gap in the range of €7-9 billion for the EU to meet its recycled content targets by 2025 . While the overall amount seems minimal, it relies on a reliable end-market for recycled content to upgrade annual sorting and recycling capacity by 2025 in pursuit of its 10 Mt annual target for recyclate – reusing materials that have been recycled – across the continent.

With more than 90% of that cost not included in the market price of plastics according to estimates from the World Wide Fund for Nature (WWF), the case for venture debt innovation in this market is an established one. Yet, venture debt – think of a loan to an an early stage business that provides liquidity for the period between equity funding rounds – requires specialized skills and an established transaction ecosystem to thrive. The EIB alone has rolled it out as a tool to finance plastic lifecycle ventures extensively. An example of such a transaction is the EIB's financing of the French company CARBIOS in 2021, for a €30 million loan agreement. Through its technology development, Carbios converts PET plastic (the dominant polymer in bottles, trays and textiles made of polyester) into its core monomers, which can then be used for feedstock as new 100% recycled PET suitable for all original applications.
In the US, the case for funding plastics recovery and recycling infrastructure has continued to grow strong as an economic and environmental opportunity that can benefit from the Inflation Reduction Act of 2022. The recent $10 million investment from Sumitomo Mitsui Banking Corporation  into Closed Loop Partners Circular Plastics Fund is a strategic bet into an addressable market for plastics with potential revenue opportunities of $120 billion in the U.S. and Canada alone.
| You don't want to miss this week
From Bologna, to Seattle, and Tallinn (Estonia), this week offers new opportunities to connect with fellow circularity practitioners both in person and in hybrid mode.
Discover, grow and leave your mark!
〉June 5th – June 9th: EU Biomass Conference (Bologna, Italy). At a time when opportunities and headwinds for biomass extend globally, the EU biomass community will discuss its role for the future of decarbonization. Led by Isabella De Bari, Conference Chair and Head of the ENEA laboratory for the processes and technologies for bio-refineries and green chemistry, with the participation, among others, of international experts Paolo Frankl, Renewable Energy Division chief at the International Energy Agency (IEA), James Spaeth from the US Dept Of Energy, and Marko Janhunen, Director of Public Affairs with the Advanced Biofuels Coalition, Finland. *Note: Attendance is free in person and via streaming.
〉June 5th – June 7th: Circularity 23 (Seattle, WA). Join me in Seattle this week at the annual circularity gathering by GreenBiz Group. I will be participating in the session "Track and Trace: Navigating the Enabling Tech Landscape" on Monday morning with a deep dive into Digital Product Passports and how product-level transparency promises to enable stronger supply chains and deliver more effective investor due diligence. A packed morning and tutorial guided by Heather Clancy.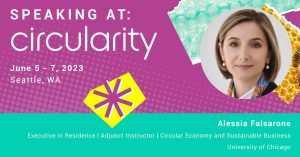 〉June 5th – June 6th: 5th OECD Roundtable on the Circular Economy in Cities and Regions (Tallinn, Estonia). Part of the EU Green Week, the event will focus on how to enable urban spaces for circular solutions, and showcasing the experience of Estonia. The city of Tallinn has been awarded the title of European Green Capital 2023 and is committed to reaching carbon neutrality by 2050. It also marks the launch of the new OECD report on "The Circular Economy in Tallinn, Estonia", which offers policy recommendations for effectively implementing circular economy policies across all levels of government.
Off to another impactful week!
| about 
Alessia Falsarone is executive in residence, practitioner faculty at the University of Chicago, where she leads the Circular Economy and Sustainable Business program. The article is based on the author's newsletter A Week of Circularity from the innovation knowledge hub.
| All opinions expressed are those of the author and/or quoted sources. investESG.eu is an independent and neutral platform dedicated to generating debate around ESG investing topics.