NEWSLETTER by Alessia Falsarone. The author acknowledges the team at The University of Chicago Circular Economy and Sustainable Business Management Program and all participants of the innovation knowledge hub for their insights and collaboration.
---
The ocean, seas, coastal and inland waters together form the water cycle, covering almost 75% of the Earth's surface. They are crucial for all forms of life. Moreover, with about 40% of the global populace living on or near coastlines, oceanic ecosystems safeguard coastal areas and regulate the climate. They also play an essential role in absorbing 90% of the extra heat generated by climate alterations, and serve as a crucial source of nutritious food to over three billion people and energy supply to the world.
And the economic value of ocean-based goods doesn't end there. According to UNESCO's 2023 Trade and Environment Review, they represent 6% of global trade. However, this industry also causes significant socioeconomic damage to the oceans – with mismanagement, inadequate policies, and market failures costing an estimated $1 trillion per year. That's why the ocean is viewed as the next economic frontier, a critical component of thriving and sustainable economies.
| The Science of Impact
The blue economy is often discussed in terms of ocean sustainability.
The World Bank has long placed its definition in a broader context, according to which: "[the blue economy] is now a widely used term around the world with three related but distinct meanings: (1) the overall contribution of the oceans to economies, (2) the need to address the environmental and ecological sustainability if the oceans, and (3) the ocean economy as a growth opportunity for both developed and developing countries." The third pillar links the blue economy with sustainable development and calls for an integrated approach based on sustainable use of the oceans and coastal areas to deal with environmental degradation and resource depletion.
Through a sustainable development lens, the ocean's commercial value is intimately linked to its social impact and, inevitably, is not sufficiently captured in official national accounts. The state of country-level R&D subsidies has a long way to go for dedicated ocean-based solutions to foster scientific collaboration and the necessary technology transfer.
| Circularity Roadmaps Explained
Known as Mission Starfish, the large scale transformation launched by the EU Mission Board on Healthy Oceans, Seas, Coastal and Inland Waters in 2020 has at its core the restoration of EU oceans and waters by 2030, which includes the protection of ecosystems and biodiversity, the elimination of pollution, and the shift to a carbon-neutral and circular blue economy.
More importantly, the EU Commission has made it clear that to reach the EU Green Deal objectives and to contribute to the implementation of the UN 2030's Agenda for Sustainable Development, this large scale transformation has to address five objectives: (1) knowledge, (2) regeneration, (3) zero pollution, (4) decarbonization, and (5) governance, through a cascade of 17 concrete and measurable targets for 2030.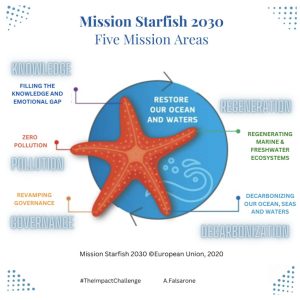 >>click to zoom in | © EU Commission and Europa Media
How are these 5 mission areas mutually supportive?
The EU Commission emphasizes the importance of regenerating ecosystems through direct protection and revitalization (regeneration), which cannot be achieved without halting pollution (pollution). Additionally, the health of the ocean is intimately linked to climate change, making the transition to climate neutrality by decarbonizing the blue economy essential (decarbonization). To enable such a transformation, a revamped governance system that is up to the challenge is necessary (governance). Lastly, society and science must support this ambition of environmental, economic, and social change, through closing the knowledge and emotional gap (knowledge and emotional) as a cross-cutting supportive action.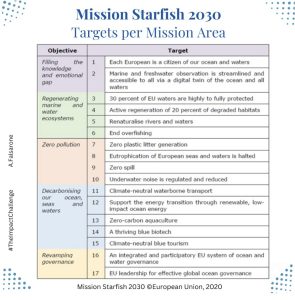 >>click to zoom in | © EU Commission and Europa Media
Let's take as an example the Mediterranean.
Circularity is key to achieving zero plastic generation in the Mediterranean sea basin. With fisheries and tourism identified as the main blue sectors by the EU Commission, specific aspects of these sectors have been assessed in the Mediterranean, including the reduction of negative impacts on the seas and oceans caused by land activities like port systems. Fisheries and aquaculture are significant in generating nearly USD 12 billion per annum and significant employment (approx. 1 million people). They offer a number of opportunities for adopting circular economy principles, along the entire value chains of seafood products, starting from the loss of fishing gear, which in some cases is intentionally discarded to avoid costs of end-of-life disposal. Circularity can also produce high-value end products out of seafood industry waste, including pharmaceuticals and cosmetics. In a similar fashion, coastal and maritime tourism is an important source of growth and jobs, especially for youth, migrant and part-time workers. Women make up nearly 60% of personnel in core tourism activities.
| Investing in the Circular Economy
The state of blue finance is quite advanced already. According to a recent investor report, the ocean contributes over €1.3 trillion in gross value added to the global economy annually, and it is expected to average €2.5 trillion by 2030. Nevertheless, the drastic decline in the health of marine ecosystems due to overexploitation of resources, destruction of habitats, and carbon emissions, is likely to curb its potential.
An estimated €147 billion per year globally is needed to achieve SDG 14 (Life Below Water) by 2030. According to BlueInvest, only €21 billion is available to date, mostly coming from the public sector. In the EU alone, the financing gap for SMEs in the blue economy ranges between €60-€70 billion.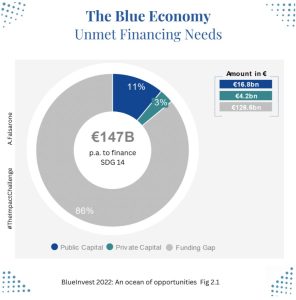 >>click to zoom in | © BlueInvest Initiative 2022
In March 2023, Portugal launched the first blue economy fund, the Growth Blue Fund, focused on Southern Europe. The investment vehicle led by Miguel Heredia and Juan José R.-Navarro, is the result of a partnership between the European Investment Fund (EIF), the venture capital arm of the EIB, Banco Português de Fomento and the Portuguese Government, through Fundo Azul. With a target size of €50 million, it will invest in 8 to 12 SMEs and small-mid caps, primarily from Portugal and Spain, with equity and quasi-equity participation above €1.5 million each, targeting mature blue economy companies and a broad sectorial focus (e.g., the value chain of seafood, offshore energy, shipping, ports and blue biotech contributing to decarbonization, reducing ocean contamination and conservation of marine ecosystems).

Meanwhile, a whole ecosystem of innovative start-ups are supercharging the blue economy and enticing investments from institutional investors, including sovereign wealth funds (SWFs). SWFs have nearly US $8.0 trillion in assets. Only few of them have truly started thinking about their role in the circular economy, including ocean sustainability investments including thematic areas impacting the blue economy. 𝐌𝐨𝐧𝐚𝐜𝐨'𝐬 𝐅𝐨𝐧𝐝𝐬 𝐝𝐞 𝐑é𝐬𝐞𝐫𝐯𝐞 𝐂𝐨𝐧𝐬𝐭𝐢𝐭𝐮𝐭𝐢𝐨𝐧𝐧𝐞𝐥 is the first SWF to earmark a 𝘥𝘪𝘳𝘦𝘤𝘵 commitment to circularity-focused investments with its recent participation in the Lombard Odier Investment Managers Plastic Circularity private market strategy.
| You don't want to miss this week
From Prato (Italy), to London, and Pazardzhik (Bulgaria), this week offers new opportunities to connect with fellow circularity practitioners both in person and in hybrid mode.
Discover, grow and leave your mark!
〉June 25th – 27th: International Workshop on Circular Economy and Sustainability (Prato, Italy). Hosted by Monash University (Australia), this international workshop will bring together leading researchers to share current ideas on the Circular Economy and form alliances for future collaboration. The aim is to gather around 40 participants from around the world for presentations, round-table discussions and possibly a local industry visit. Prof. Amrik Sohal in Melbourne is the main contact for this event.
〉June 27th – 28th: London Climate Week: Reset Connect (London, UK). Reset Connect London, the UK's largest sustainability and net-zero event and flagship event of London Climate Action Week, supports business, finance, industry and government to collaborate, share learnings and action solutions. The main Cities & Environment Stage will showcase how Mayors, local authorities, and the built environment are adopting new models like the Doughnut Economy, how they are funding this transition and how private capital can play a role in regeneration.
〉June 28th: Biocircularcities Trilogy (webinar: 10:30 – 12:00 CEST) The first episode of the Biocircularcities Trilogy unveils the story behind the success of the Bio-based Industries Joint Undertaking (BBI-JU) project or how partners supported a transition of the pilot territories toward circular bioeconomy through a collaborative approach. Since 2021, three pilot territories have been working on unlocking the circular economy potential of unexploited bio-based waste streams, namely.
organic fraction of municipal solid waste in the metropolitan area of Barcelona (Spain),
biowaste from the coffee chain in the metropolitan city of Naples (Italy), and
residual biomass from forestry and related wood transformation activities in the province of Pazardzhik (Bulgaria).
Partners will reflect on the development of Biocircularcities over its two years of existence and share their key findings.
Off to another impactful week!
| about 
Alessia Falsarone is executive in residence, practitioner faculty at the University of Chicago, where she leads the Circular Economy and Sustainable Business program. The article is based on the author's newsletter A Week of Circularity from the innovation knowledge hub.
| All opinions expressed are those of the author and/or quoted sources. investESG.eu is an independent and neutral platform dedicated to generating debate around ESG investing topics.