INSIGHT by James Richens, Trase
---
Trase and Proforest have published recommendations for establishing a fair and effective risk benchmarking to underpin the EU deforestation regulation.
---
On 29 June, the European Union's deforestation regulation (EUDR) came into force, starting the clock ticking on its requirement to implement a risk assessment system that will help deliver its goal of preventing commodities grown on recently deforested land being imported into the EU.
By the end of 2024, the European Commission must classify all producer countries or regions within them as either low, standard or high risk. The system will enable enforcement agencies to target checks on products from high-risk countries, while allowing companies to undertake simplified due diligence for products from low-risk countries.
Designing a fair and effective risk benchmarking system is no small undertaking. It needs to cover a variety of commodities including beef, cocoa, palm oil, soy and wood produced in a range of countries from Brazil and Indonesia to Sweden and Côte d'Ivoire. Existing global datasets on deforestation are often patchy, relying on crude estimates of the impact of commodity expansion. Some producer countries are already rattling their sabres at the World Trade Organization over a perceived protectionist and discriminatory trade barrier.
Trase and its partner Proforest have published a detailed risk benchmarking framework and methodology that can inform the design of the EU's system. The recommendations draw on extensive experience designing a risk benchmarking system in partnership with the Consumer Goods Forum's Forest Positive Coalition (CGF-FPC) to support its member companies to implement their voluntary zero-deforestation commitments.
Trase and Proforest demonstrate this approach to risk benchmarking designed with the CGF-FPC through two case studies; the first to classify risk at national level for countries with exposure to cattle pasture deforestation and ecosystem conversion, and the second to classify deforestation and conversion risk in soy-producing municipalities in Brazil.
| The importance of subnational benchmarking
An important insight from Trase's research is that commodity deforestation is often concentrated in a handful of countries and regional hotspots . Moreover, different commodities can have different levels of deforestation risk in the same country. Trase and Proforest recommend that the EU should make full use of subnational risk benchmarking – not just for high-risk countries – but for any country with a large variation in regional deforestation rates. Risk benchmarking should also be done on a commodity-specific basis where sufficient data is available (see figure).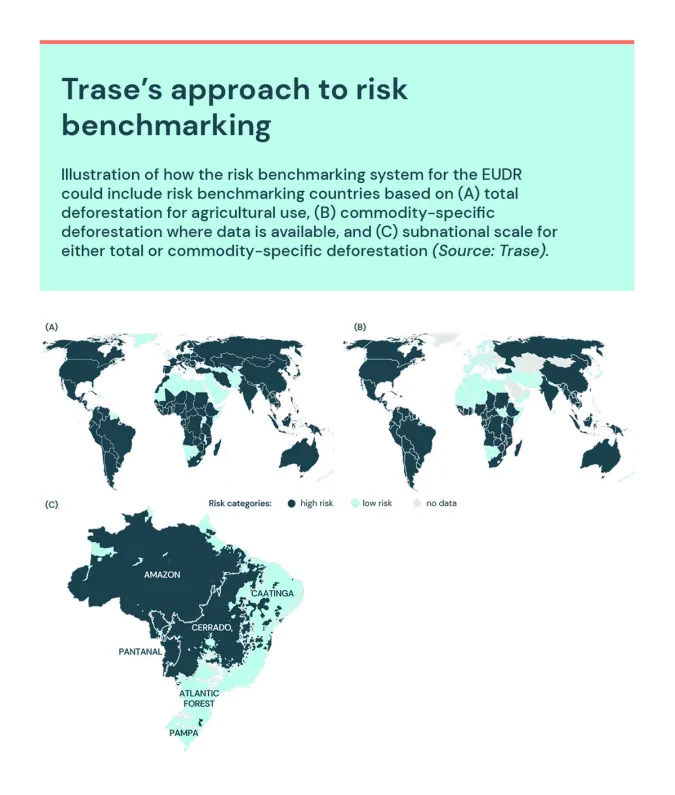 It is important that a benchmarking system enables the comparison of risks across different countries, regions and commodities. Trase and Proforest recommend that risks should be classified based on the relative amount of commodity deforestation in a country or subnational region, compared to the total amount globally or in a country. This provides an objective and comparable benchmark that can be used consistently across commodities and scales.
| Filling the data gaps
Trase and Proforest identify the need to invest in generating better data to support risk benchmarking. This includes improving and maintaining up to date, globally consistent datasets on commodity deforestation. Subnational risk benchmarking requires more granular data that may require access to country or region-specific information. Trase and Proforest's approach to risk benchmarking demonstrates that it is possible to overcome data gaps by integrating different datasets and safeguards, but this increases complexity. Filling the data gaps is therefore a critical priority.
It is also important to integrate data on legal compliance and human rights into the risk benchmarking system. The regulation's current approach means that regions classified as low risk in terms of deforestation could be high risk for non-compliance with legal production, including protecting human rights.
Engagement with governments and other stakeholders in producer countries on the design of the risk benchmarking system will be critical in building trust in the system. A partnership approach is particularly important when taking action in high-risk areas of deforestation through governance reforms, support for compliance with a focus on smallholders, and incentives for the transition to more sustainable production.
---
Risk benchmarking for the EU deforestation regulation:
Key principles and recommendations
---
| about
Trase is a data-driven transparency initiative that is revolutionising our understanding of the trade and financing of commodities driving deforestation worldwide. Its unique supply chain mapping approach brings together disparate, publicly available data to connect consumer markets to deforestation and other impacts on the ground. Trase's freely-available online tools and actionable intelligence enable companies, financial institutions, governments and civil society organisations to take practical steps to address deforestation.
---
| All opinions expressed are those of the author and/or quoted sources. investESG.eu is an independent and neutral platform dedicated to generating debate around ESG investing topics.