Q&A with Fiona Reynolds, an independent director and advisory board member; former CEO of the Principles for Responsible Investment (PRI); Chair of the UN Global Compact Network Australia; and Chairs the Steering Committee for Finance for Peace.
---
| What should investors know about peace finance?
〉Peace Finance is a new category of sustainable finance. To summarise, it's investment that intentionally seeks to improve conditions for peace.
〉Peace Finance can be public or private investment that creates peace-positive impact in developing, fragile and conflict-affected contexts.
〉Whilst many investors have committed to the SDGs, to climate goals and to responsible investment more broadly, we are not seeing money move at the scale required into developing and frontier economies, yet this is where most of the challenges are.
〉As we reach the halfway point of the SDGs, the United Nations Conference on Trade and Development (UNCTAD) World Investment Report 2023 finds that developing countries face a widening annual investment deficit as they work to achieve the SDGs by 2030. The gap has grown to approximately USD 4 trillion per year, up from USD 2.5 trillion in 2015 when the SDGs were adopted. The report finds that global foreign direct investment fell 12% in 2022 and while allocation to SDG-investment sectors like renewables has nearly tripled since 2015, the lion's share of the money has gone to developed countries.
〉To meet the SDG agenda, and to meet our climate goals of net zero by 2050, we must find an answer to this issue. We must unlock the capital that is desperately needed. To do this, it is essential that the private sector and governments collaborate with multilateral organizations to establish robust frameworks, set high standards and create the policy settings required for capital to flow, such as those being developed by Finance for Peace.
〉Investment is many parts of the developing world is not possible without peace, stability and community involvement.
〉Peace Finance opens markets and it lowers risks and borrowing costs.
〉It creates benefits for local people and reputational benefits for investors.
| What is the mission of the Finance for Peace Initiative, and the support asset owners and managers can expect in the future?
〉Finance for Peace is a multistakeholder initiative seeking to develop a market for peace, so that capital can flow to the areas that most require it. This includes standards, market intelligence and partnerships for peace-positive investment.
〉A market for Peace Finance needs to be created because existing blended finance mechanisms are not working to fill the financing gaps.
〉Finance for Peace has developed the Peace Finance Impact Framework (provides for a Peace Label), Peace Bond Standards, Peace Equity Standard.
| Could you please tell us more about the Peace Finance Impact Framework and the Peace Finance Standard?
〉The Peace Finance Impact Framework (PFIF) and Peace Finance Standard have been developed in collaboration with a wide range of stakeholders from private finance, banking, development finance, impact investment, civil society as well as peacebuilding and development sectors.
〉The PFIF is a voluntary framework that guides government donors, development finance institutions, private asset managers, banks, and investors as well as peace actors on how investment approaches can realise rigorous and benchmarked peace impacts. By doing so, PFIF-aligned investments can lower risks for investors as well as communities.
〉The PFIF sets out international best practice for labelling Peace Bonds and Peace Equity investments through a self-certification scheme called the Peace Finance Standard (PFS). The framework describes basic exclusionary criteria, a proposed process and partnership model of how investors can plan, implement, measure and verify peace impacts.
〉Peace Bond Standard: https://financeforpeace.org/resources/peace-bond-standard/
〉Peace Equity Standard: https://financeforpeace.org/resources/peace-equity-standard/
〉More information here: https://financeforpeace.org/news/towards-a-global-peace-bond-market/

| Why is it essential to develop new peace finance standards?
〉Many investors don't invest in developing countries, due to the risks involved. We need to lower the risks, by developing the standards required.
〉It can also avoid "peacewashing".
| How do you see the potential role of peace finance when it comes to achieving global development and climate goals?
〉If only 1% of annual global issuance in sustainable investment categories was aligned with Peace Finance standards and impact frameworks, this would represent more than USD 16 billion of peace-enhancing finance.
〉Peace Finance can unlock investment opportunities in fragile contexts and thus help countries reach the SDGs.
〉Climate change causes conflict, and climate mitigation projects can be jeopardized because of conflict. Peace Finance, i.e. conflict-sensitive investment, can help to solve this vicious circle.
| Could peace finance combined with de-risking solutions, provided by organisations like UNIDO, contribute to making Global South and emerging markets more attractive to sustainability-focused investors?
Yes, aligning investment to Peace Finance standards and the PFIF would lower risks to both investors and communities. Development requires investment but the – real or perceived – risks associated with conflict settings block investments reaching places and people that need it most.
| brief bio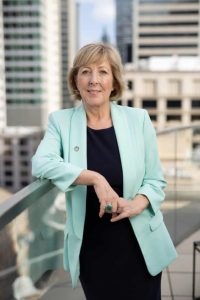 Fiona Reynolds is an independent director and advisory board member working across the business and investor sectors on ESG and sustainability issues. Fiona served as the CEO of the Principles for Responsible Investment (PRI) for just under a decade, stepping down at the beginning of 2022.
Fiona is the Chair of the UN Global Compact Network Australia; and Chairs the Steering Committee for Finance for Peace based in Geneva. She also serves on the Board of Frontier Advisors and the Australian Sustainable Finance Institute. She is on the Advisory Boards of Quinbrook Infrastructure Partners, Affirmative Investment Management, and ROC Partners. She chairs the ESG Advisory Board for Qualitas and is on the think tanks Climate Catalyst, and the UBS Sustainability and Impact Forum, as well the Advisory Committee for the NSW Commissioner for Anti-Slavery and the Australian Human Rights Institute.
Fiona has 25 years' experience in the financial services, superannuation and pension sector. She joined the PRI from the Australian Institute of Superannuation Trustees (AIST), where she spent seven years as CEO.
Fiona was named one of the 20 most influential people in sustainability globally by Barron's magazine and has twice been named one of Australia's one hundred women of influence by the Australian Financial Review.
Fiona was announced as the Chair of the Finance for Peace initiative's Steering Committee in September 2023.

---
| All opinions expressed are those of the author and/or quoted sources. investESG.eu is an independent and neutral platform dedicated to generating debate around ESG investing topics.