INSIGHT by Morningstar
---
Morningstar recently published the Morningstar ESG Commitment Level Landscape, a qualitative assessment of 108 global asset managers' determination to incorporate ESG factors into their investment processes and deliver sustainability outcomes. The report found that just eight earn a Morningstar ESG Commitment Level of Leader, the highest distinction.
Asset managers that earn top marks under the ESG Commitment Level are those that our analysts expect to continue leading the charge on ESG and sustainability issues. Because such a large portion of a fund's sustainability characteristics is driven by centralized resources and active ownership strategies, it is crucial to assess the firm itself, not just individual funds.
---
| Key takeaways include:
〉Eight asset managers – Affirmative Investment Management, Australian Ethical, Boston Trust Walden, Domini, Impax, Parnassus, Robeco, and Stewart Investors – earn a Morningstar ESG Commitment Level of Leader, while 21 score Advanced. The largest group of firms (48) receive an ESG Commitment Level of Basic, and 31 earn Low.
〉Ratings changes picked up compared with previous years but remained few and far between.
〉Two firms – Wellington Management and Brown Advisory – were upgraded to Advanced from Basic.
〉Two firms – Franklin Templeton and BetaShares – were upgraded to Basic from Low.
〉One firm – UBS Asset Management – was downgraded to Basic from Advanced.
〉This year, 34 firms were reviewed for the second or third time. Of those, four maintained ESG Commitment Levels of Leader: Robeco, Impax Asset Management, Parnassus, and Boston Trust Walden.
〉BlackRock, Capital Group, JPMorgan, and Invesco retained Morningstar ESG Commitment Levels of Basic. Vanguard remained at Low.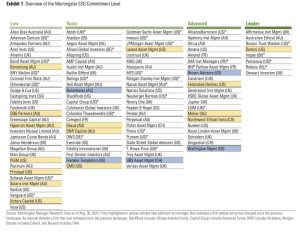 The ESG Commitment Level is distinct from the Morningstar Medalist Rating, which identifies strategies that Morningstar believes should be able to outperform their category index or peers over time. The ESG Commitment Level is not evaluating expected performance. Rather, it is focused on the extent to which asset managers and funds incorporate ESG considerations into their investment processes, and it highlights the asset managers that are leading the way when it comes to sustainable investing.
The ESG Commitment Level is also complementary to existing portfolio-level sustainability metrics such as the Morningstar Sustainability Rating and Sustainable Attributes.  The Morningstar Sustainability Rating is a quantitative, holdings-based measure of a fund's ESG risks relative to category peers. Investors may find it helpful to use the two measures in tandem, but they are merely complementary— one qualitative and based on an overall assessment of a strategy, the other quantitative and based on the ESG risks of a strategy's portfolio holdings.
Morningstar will continue to assess progress among firms, looking for material improvement and deterioration, and will apply those insights to asset managers' ESG Commitment Levels
| about
Morningstar Manager Research provides independent, fundamental analysis on managed investment strategies. Morningstar views are expressed in the form of Morningstar Medalist Ratings, which are derived through research of three key pillars—People, Process, and Parent. The Morningstar Medalist Rating is the summary expression of Morningstar's forward-looking analysis of investment strategies as offered via specific vehicles using a rating scale of Gold, Silver, Bronze, Neutral, and Negative. A global research team issues detailed research reports on strategies that span vehicle, asset class, and geography. Medalist Ratings are not statements of fact, nor are they credit or risk ratings, and should not be used as the sole basis for investment decisions. A Medalist Rating is not intended to be nor is a guarantee of future performance.
Morningstar Manager Research Services combines the firm's fund research reports, ratings, software, tools, and proprietary data with access to Morningstar's manager research analysts. It complements internal due-diligence functions for institutions such as banks, wealth managers, insurers, sovereign wealth funds, pensions, endowments, and foundations. Morningstar's manager research analysts are employed by various wholly owned subsidiaries of Morningstar, Inc. including but not limited to Morningstar Research Services LLC (USA), Morningstar UK Ltd, and Morningstar Australasia Pty Ltd

---
| All opinions expressed are those of the author and/or quoted sources. investESG.eu is an independent and neutral platform dedicated to generating debate around ESG investing topics.