NEWSLETTER by Alessia Falsarone. The author acknowledges the team at The University of Chicago Circular Economy and Sustainable Business Management Program and all participants of the innovation knowledge hub for their insights and collaboration.
---
Climate week has arrived in New York and so has the annual UN General Assembly. It is that time of the year, three months before the annual Conference of Parties (COP) gathering, when bottlenecks in progress are revealed, metrics are unveiled, and goal setting is boosted. The importance of sustainable development and environmental resilience for global geopolitical stability is becoming increasingly evident.
To design and communicate an effective policy response in an international setting, it is crucial to understand the significance of embodied carbon. The global market for plastics provides some insights into this matter.
| The Science of Impact
The impacts of plastic pollution on the environment are clear and visible, but the less studied effects of embodied carbon emissions from energy-intensive plastic production processes are not widely known yet. The embodied carbon (EC) of a material can be defined as the amount of CO2 emissions released in the extraction, manufacture and transport of the material. In a 2021 study, Prof. Vikas Khanna and his colleagues from University of Pittsburgh give us an idea of the magnitude of EC across a spectrum of plastic resins with data from the Inventory of Carbon and Energy (ICE) database. Their work highlights how EC values can vary significantly depending on the way they are measured (accounting methods and lifecycle analyses). They might represent all the CO2 emissions up until the factory gate (cradle to gate), or once the material has reached its end location (cradle to site). Plastic refers to a broad range of synthetic (or semisynthetic) polymers that can take many forms – PET being one of the most common by annual tons produced. The EC of PET for example could vary in a 100% range depending on how it's made, between 1.5 kg and 3.6 kg CO2 emissions per kilogram.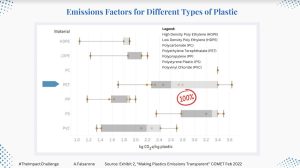 Converting a polyolefin resin (e.g., LLDPE,HDPE, PP) into a flexible film suitable for packaging has been estimated to cause an additional 20%−65%+ of embodied GHGs compared to the initial resin production, highlighting the carbon intensity of plastic manufacturing processes. Therefore, tracking plastics across their life cycle is key to improving the recovery and reutilization of plastic materials, and quantifying the associated embodied impacts.
| Circularity Roadmaps Explained
International trade is essential for the availability of material goods, including plastics, regardless of where they are produced. China's ban on plastic waste imports in 2018 is expected to displace around 110 million tons of plastic waste in the 10 years following the ban. This has created a significant need for other countries, such as Australia, Canada, South Korea, and Japan, to improve their domestic waste management capabilities. To put it in perspective, the carbon emissions associated with the global plastics trade network in 2018 were comparable to the annual CO2 emissions of developed nations like Italy and France. Therefore, it is important to consider the embodied impacts, such as resources and emissions, that will be displaced due to such bans. Professor Khanna's research highlights the importance of implementing circular economy strategies for plastic production and management in key countries like China, the USA, Germany, Saudi Arabia, and South Korea, as this can have a ripple effect throughout the global plastics trade network (*).
Policy responses that take into account these embodied impacts have a greater chance of delivering on their promises.
(*) credit to ACS Sustainable Chem. Eng. 2021, 9, 44, 14927–14936
| Investing in the Circular Economy
Thematic investing in the circularity of plastics has just achieved a new milestone. Infinity Recycling BV, the Rotterdam-based growth capital firm launched in 2019 to invest in advanced technologies to tackle plastics waste, has successfully closed its Circular Plastics Fund I, raising approximately €105 million in committed capital. Since its launch in February 2022, the fund has invested in four portfolio companies and is projected to have its final closing in Q4 2023. New investors in the fund include the European Investment Fund (EIF), with the support of the InvestEU programme, and GC Ventures.
The vision beyond Circular Plastics Fund I goes beyond recycling. Its investments aim to scaling up the advanced recycling market, by providing growth capital to technology companies that transform plastic waste streams into primary commodities used to produce new plastics.
Why now?
As interest in the circular economy grows along with increased consumer awareness and the climate pledges of consumer-packaged-goods (CPG) companies meet the reality of regulatory compliance, emerging recycling technologies that complement mechanical recycling – all we have known for the past 30 years –  are speeding up. In a 2022 article, the team at McKinsey & Company noted how advanced recycling can in fact expand the range of recyclable plastics and create plastics with customized molecular weight distributions and comonomers suitable for high-value applications, like food packaging.
However, current capacity is limited as many of these technologies are still in development and scaling. A nearly US$40 billion investment opportunity by 2030.
That's the opportunity that Infinity Recycling is after!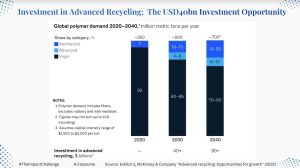 | You don't want to miss this week
From New York to Brussels, this week offers new opportunities to connect with fellow circularity practitioners both in person and in hybrid mode.
Discover, grow and leave your mark!
〉September 18th: Global Circularity Protocol: A WBCSD/UNEP C-Suite Roundtable (New York City). The WBCSD – World Business Council for Sustainable Development and the UNEP One Planet Network will be co-hosting a multi-stakeholder event over breakfast during the SDG Summit. The event aims to present the Global Circularity Protocol project as a voluntary framework designed to foster policy alignment, facilitate accountability of businesses, attract investment, and raise consumer awareness. The Protocol was launched this past June at the World Circularity Forum in Helsinki. For more information, please contact Filipe Camaño Garcia(filipe.garcia@wbcsd.org).
〉September 20th: Australian Climate Tech Investment Opportunities* This in-person gathering will promote Australia as a destination for investment and highlight the opportunities to participate in scalable technologies, products and services across key sectors including energy, climate tech, circular economy, mobility, agriculture, the blue economy and infrastructure. Representatives from leading investors, climate technology/solution providers and other corporate leaders will engage to discuss opportunities to collaborate. The event will also serve as the official launch of the Climate Investor Forum 2024, Australia's premier climate investment to be held in Melbourne on 20 March 2024.
Speakers will Include: Heather Ridout AO, Australian Consul-General, New York; Megan Flynn , Managing Director-Chief Growth & Impact Officer, Pollination; Justin Punch, Chair, Australian Renewable Energy Agency (ARENA); Peter Castellas, CEO, Climate Zeitgeist.
Note (*): the in-person even is held by invitation only at the American Australian Association in Midtown Manhattan.
〉September 21st: Circular Economy Taxonomy Workshop(also available as LinkedIn Event here). Hosted by the CircularPSP EU-funded project, the kick-off meeting of this open working group will lay out the foundation for a White Paper* on the overall challenge, status quo, principles that should be followed by CE-cities and regions to overcome organizational, informational and operational barriers for their circularity transition, as well as issues regarding taxonomy, standards and data sources. Next, an initial phase will focus on 'collection and definition' of terms and data sources to cover circular economy, enabling AI holistically. At a later stage, the taxonomy will be extended by (selected) classifications used in the EU taxonomy to enable regulation. Where possible benchmarks – going beyond minimum requirements or boundaries – will be added as complementary information. Presenters include Georg Vogt, coordinator of the CircularPSP project; Sten Stenbeck and Niklas Schmidt from RISE Research Institutes of Sweden.
Note (*): The online "living" file will be maintained by the CircularPSP consortium. Any interested party is welcome to join and contribute at any time to this effort.
Off to another impactful week!
| about 
Alessia Falsarone is executive in residence, practitioner faculty at the University of Chicago, where she leads the Circular Economy and Sustainable Business program. The article is based on the author's newsletter A Week of Circularity from the innovation knowledge hub.
---
| All opinions expressed are those of the author and/or quoted sources. investESG.eu is an independent and neutral platform dedicated to generating debate around ESG investing topics.