A closer look at the current market dynamic and where to find growth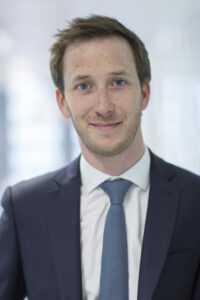 At the end of January, the European Central Bank (ECB) announced to use part of its own funds portfolio to invest in the euro-denominated green bond investment fund for central banks. With this investment, the ECB contributes, within its mandate, to global efforts to promote environmental objectives – including the EU climate goals – and to combat climate change.
With rising trading volumes and increasing issuer diversity, interest in the so-called green bond market is also growing. In the following, Johann Plé, Green Bonds Strategy Manager, AXA Investment Managers, explains the current state of development of the still relatively new market, types of investments available to investors as well as current investment opportunities.
Dynamic market
2020 was a successful year for green bonds. In addition to a market volume of already 800 billion US dollars and a total of 375 issuers, the bonds were also attractive in terms of performance. This led to increasing investor demand for green, social or sustainable bonds in 2020. The ongoing efforts of governments to reduce emissions and meet the financing needs of the energy transition are likely to continue to drive this trend in 2021. This is accompanied by developments on the corporate and investor side, such as government regulatory requirements that support the energy transition. This led to exponential growth in green bonds in 2020, despite the Covid-19 pandemic. A total of 240 billion US dollars' worth of green bonds were issued in 2020. The issuance volume was thus about 20 percent higher than in the previous year[1].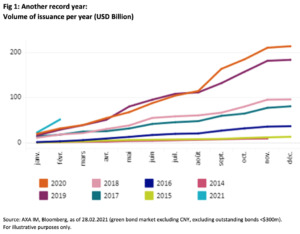 Comparison with established markets
A comparison with the established European high-yield market highlights the rapid development of the green bond market: the total volume of the still relatively new market already exceeds that of the European high-yield market. Recently, the Italian government also issued sustainable government bonds for the first time. Italy thus follows EU member states such as France, Germany and the Netherlands. As the growing offer is accompanied by considerable demand, market growth should continue to increase in the long term. By the end of 2021, the market volume is expected to exceed one trillion US dollars.
In addition to 375 green bond issuers, 71 social bonds and 98 other issuers of sustainable bonds are represented on the market. The latter two types of bonds in particular recorded growth in 2020. This was mainly due to parastatal organisations.
Market access and investment opportunities
Investors can access this market today through various investment opportunities. At AXA Investment Managers, we follow the development of impact bonds very closely. We manage more than 13 billion EUR of impact bonds with green, sustainable and social bonds through specialised portfolios and by creating specific impact allocations within our traditional portfolio management. With the risk-return ratio remaining the same, we prefer these instruments to conventional issues as they bring important information benefits. We also offer investors a mutual fund. We have defined four promising investment themes: sustainable transportation chains, smart energy solutions and green real estate. We invest around ten percent in the areas of biodiversity, water and waste management. We expect a lot of development here in the next few years.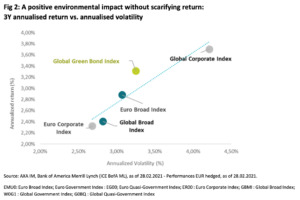 [1] Source: AXA IM, 28 February 2021
| This article is based on information provided by AXA Investment Managers. 
| All opinions expressed are those of the author. investESG.eu is an independent and neutral platform dedicated to generating debate around ESG investing topics.