NEWSLETTER by Alessia Falsarone
For years, stewardship has played a crucial role in manufacturing and resource-intensive industries. Organizations strategically addressing their environmental impact manage product stewardship schemes across various materials and operational settings. This helps engage consumers and raise awareness about the lifecycle of their products.
The emergence of a smarter, digitally-driven circular economy enhances product stewardship as a competitive advantage, ensuring its continued importance in the business and policy arenas.
| The Science of Impact
In terms of circularity, stewardship efforts generally fall under the category of Product Stewardship, which involves responsibly managing a product's environmental impact throughout its entire lifecycle.
The Canadian Chemicals Producers Association first introduced the concept of Product Stewardship in the late 1970s to address environmental management of products and materials. Over time, it has evolved from the responsible handling and disposal of hazardous waste to a more comprehensive focus on resource conservation.

Arne Remmen and his research team at Aalborg University in Denmark, have explored the role of product stewardship as enabler to the circular economy within the realm of sustainable manufacturing. They have observed how automobile, aircraft, and ship manufacturers have either been regulated or voluntarily adopted product stewardship initiatives to support high-quality end-of-life management, often gaining a competitive edge as a result.
It's critical to recognize that effective product-level stewardship necessitates robust collaboration between the public and private sectors. Many of these initiatives have historically centered on increasing recycling rates, reducing landfill demands, and fostering a market for component reuse.
New Zealand's product stewardship roadmap serves as a useful example of a high-level open-source roadmap, resulting from the collaboration of FUJIFILM Business Innovation New Zealand and the Ministry of the Environment. Juhi Shareef and Emma Harding played key roles in leading the development and its successful launch.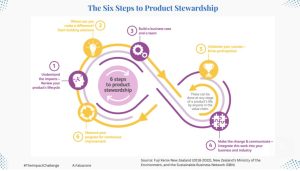 >> click to zoom in | Credit to Fuji Xerox New Zealand (2018), accredited Product Stewardship Scheme managers and the Sustainable Business Network (SBN)
The first two steps – understanding the impacts and determining where you can make a difference – already guide businesses halfway towards establishing a product stewardship scheme or enhancing an existing one.
Notice the strategic orientation embedded in both steps: identifying the customer and their product usage, as well as collaborating and partnering where an organization's influence can bring about the most significant change by providing solutions to problems it has discovered.
The case for product stewardship has never been stronger.
| Circularity Roadmaps Explained
The lithium value chain offers a prime example of how product stewardship can enable the circular economy. With the growing demand for lithium-ion batteries (LiBs) in energy storage and electric vehicles, managing their lifecycle becomes increasingly important.
Let's take the U.S. market as a reference.
So far, the development of a circular economy for LiBs has faced obstacles due to technical, economic, and regulatory factors. Manufacturers often overlook extended durability and recyclability, leading to few companies focusing on LiB material reuse and recovery. Additionally, current technology and infrastructure lack cost-effectiveness for material recovery, while limited research and market data hamper early investment decisions in the private sector. Furthermore, managing used LiBs requires navigating a maze of complex and often ambiguous federal, state, and local regulations.
According to estimates* from the team at the National Renewable Energy Laboratory, waste from decommissioned electric vehicles could cause LiBs alone to weigh 4 million tons annually by 2040 – nearly equivalent to 22,000 Boeing 747s. (*credit to Taylor L. Curtis and NREL team for the US Technical Report).
The economic and environmental potential for LiB circularity is significant.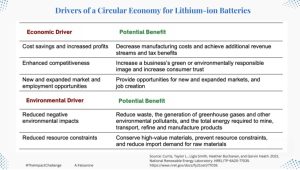 >>click to zoom in | Credit to the National Renewable Energy Laboratory. NREL/TP-6A20-77035
Priti Shokeen, Head of ESG Research and Engagement at TD Asset Management, has employed a circularity lens to highlight how investors in battery manufacturers and car makers as well as direct investors in renewable projects need to consider the environmental and social externalities associated with lithium which can potentially affect supply dynamics. Her recommendations include adopting best practices in product stewardship programs and plans to phase out hazardous chemicals.
Yet to go deeper and create a programmatic product stewardship agenda, we need to remember that information challenges are real when it comes to designing and managing a circular economy. One potential barrier to widespread product stewardship initiatives is the limited availability of crucial information and data-sharing capabilities. Traditional management information systems and product lifecycle tools primarily focus on linear supply chain operations and do not fully incorporate circularity principles.
Is it time for that to change?
There are quite a few potential benefits of including environmental information beyond performance, reliability and safety to enable, among others, a more complete assessment of durability, reuse and recycling characteristics. After all, basic materials composition of products with traceability features, for example, is already generating significant business value for organizations operating in the global supply chain for critical minerals.

Josh Entsminger, a Tech Policy Fellow 2022 at the Tony Blair Institute for Global Change, argues that the circular economy might not require a digital moonshot, but could encounter significant digital governance challenges if left unaddressed. To overcome the information obstacles, he recommends:
〉Establishing a Global Circular-Economy Commons to organize critical information and knowledge (similar to platforms like GitHub or Wikipedia)
〉Implementing Modular, Open-Source Circular Services to provide replicable public digital services such as material registries and repairability indexes, facilitating the transition from a linear model to a circular economy and tailored to cater to the needs of local markets.
| Investing in the Circular Economy
The European Commission has just released its call for feedback on a new set of EU Taxonomy criteria for additional environmental objectives including the transition to a circular economy.
While an increasing number of investors are incorporating circularity in their responsible investment toolkit, circular economy investment policies are still lagging behind.
One example is from the sustainable investment charter(2022) of Van Lanschot Kempen, the oldest independent financial institution in the Netherlands. Circularity is presented as one of three thematic areas for the firm (along with climate and health) and referenced in their 5-year old Global Impact Pool, a €178 million (as of 31 December 2022) multi-asset fund which leverages the team at responsAbility Investments AG to operationalize its circularity commitment.
Upon further analysis, the charter proposes a 2022 goal to create a "Smart and Circular Economy" policy paper, aimed at guiding portfolio companies on their journey.
We eagerly await its release and urge Kempen's team to incorporate both product stewardship and digital governance of circularity data in their policy development efforts.
Investing in the circular economy as a theme may not yield significant results unless it is part of a well-defined and governed policy statement for asset managers.
| You don't want to miss this week
From Copenhagen to Toronto, and Vancouver, this week offers new opportunities to connect with fellow circularity practitioners both in person and in hybrid mode.
Discover, grow and leave your mark!
〉April 11th: EU Critical Raw Materials Regulation: Opportunities & Challenges for Stakeholders (virtual). The European Critical Raw Materials Regulation, announced by the EU in March, aims to ensure a stable and strategic supply of critical raw materials to support the green and digital transition, both within and outside the bloc. The discussion will address the importance of circular supply chains for maximizing value from virgin materials. Notable presenters include Apoorva Arya (CEO of Circular Innovation Lab ApS), George Mörsdorf (Policy Officer for Raw Materials, Energy-Intensive Industries and Hydrogen with the European Commission) and Aman Chitkara (Director of EMEA Government Relations with Li-Cycle). Antoine Oger will give opening remarks on behalf of the Institute for European Environmental Policy (IEEP).
〉April 13th: Nordic Bioplastics Conference 2023 (Copenhagen, Denmark). The Nordic Bioplastic Conference 2023 will bring together experts from the entire bioplastics value chain to provide an update on recent industry developments. The program will focus on two themes: (1) mass balancing in relation to biobased and bioderived content, and (2) biodegradability, with the Danish Environmental Agency presenting their research on biodegradable plastic applications and discussing the implications for the industry. Dr. Phil Brown, PhD of Circularise will delve into how Digital Product Passports can aid in validating sustainability claims throughout the supply chain. Featured remarks from Rasmus Grusgaard (Plastindustrien i Danmark), Marianne Jakobsen Juhl (Danish Environmental Agency Miljøstyrelsen), and Silvia Forni (EU Directorate-General for the Environment).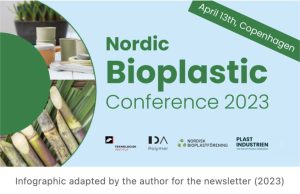 〉April 13th: CityAge Fast-Growing Cities and the Circular Economy (virtual). How can the technology sector collaborate with local municipalities to create sustainable, livable, and thriving cities? The event will explore innovative technology solutions for waste management and promoting the circular economy in rapidly expanding urban areas. Discussions will cover upgrading infrastructure for sustainability, focusing on clean energy, smart waste, and recycling systems. Bryan Buggey of Invest Vancouver will lead a conversation on the evolving experiences of cities, featuring Meaghan Davis from the City of Toronto. Frances Edmonds, Head of Sustainable Impact for HP Canada, will provide insights on the essential building blocks of circular procurement.
Off to another impactful week!
| All opinions expressed are those of the author and/or quoted sources. investESG.eu is an independent and neutral platform dedicated to generating debate around ESG investing topics.